Goal Zero Yeti 400 Lithium Power Station + Boulder 50 Solar Kit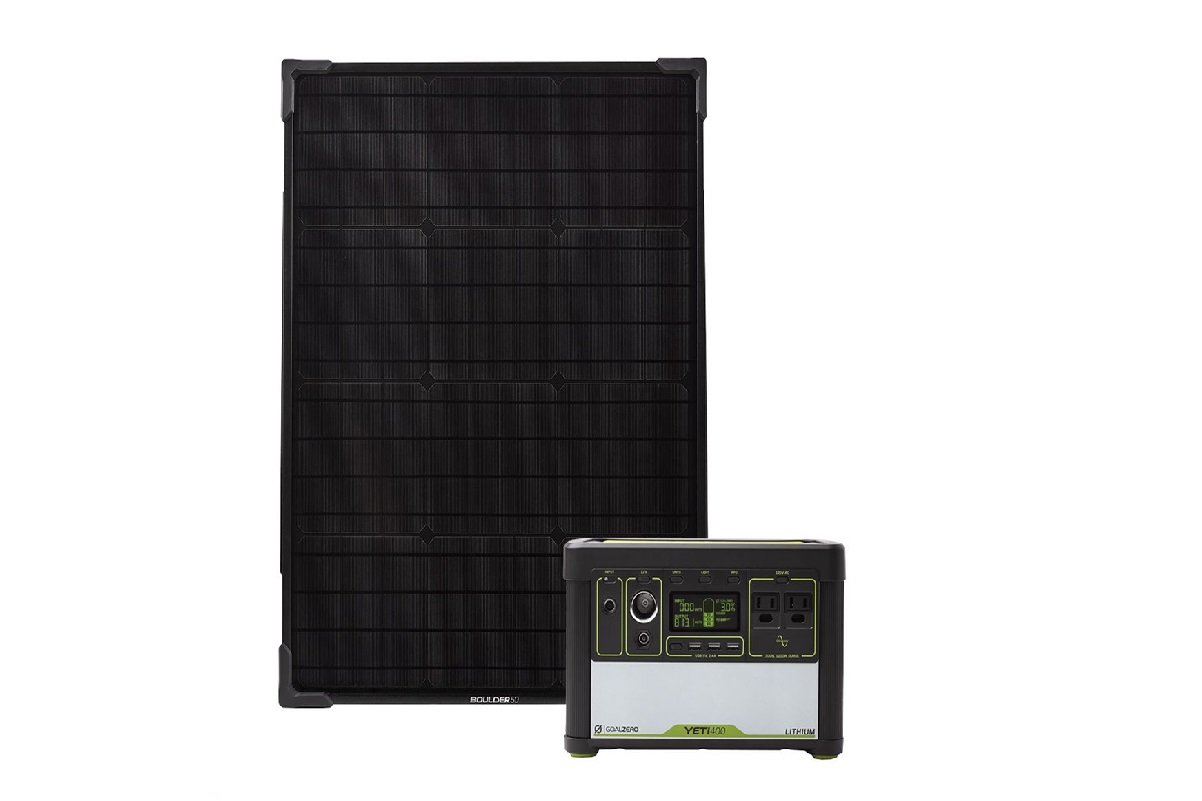 Goal Zero Yeti 400 Lithium Power Station + Boulder 50 Solar Kit
Rugged, durable, and rigid, the Boulder 50 Solar Panel pairs perfectly with the Goal Zero Yeti 400 Lithium portable power station to charge all your essential gear day or night.
Boulder 50 Highlights
50 Watt (18-22V) panel features integrated kickstand providing optimal angle placement
Built with strongtempered glass and an aluminum frame with added corner protection
Yeti 400 Lithium Highlights
Quiet, lightweight, lithium power at the push of a button. 428Wh, 39.6Ah (10.8V) Battery capacity.
Replaceable lithium battery weighing only 17 lbs with extended 18-month shelf life
Versatile powering options including three USB ports, two AC outlets, and 12V output.
An informative display featuring a runtime/recharge time estimator, as well as a battery level monitor and an output/input meter.
What can the Yeti 400 Lithium Power?
Laptop 3-5 Recharges
Light-a-Life 130 Hours
Mini Fridge 7 Hours
32 LCD TV 3 hours
Smartphone 20+ Recharges
POV Camera 70+ Recharges
Headlamp 70+ Recharges
Tablet 10+ Recharges
Goal Zero Yeti 400 Lithium Portable Power Station
General
Chainable: No
Weight: 16.3 lbs (7.4 kg)
Dimensions: 7.5 x 11.25 x 7.0 in (19.0 x 28.6 x 17.7 cm)
Operating Usage Temp: 32-104F (0-40C)
Warranty: 12 Months
Charge Times
Wall Charger (5A): 7 hours
Boulder 50 Solar Panel: 16-32 Hours
Nomad 100 Solar Panel: 8-16 Hours
Boulder 100 Solar Panel: 8-16 Hours
Boulder 200 Solar Panel: 4-8 Hours (NOTE: Connecting the Yeti 400 Lithium to the Boulder 200 Briefcase requires an Anderson to 8mm Connector cable)
Battery Details
Cell Chemistry: Li-ion NMC
Peak Capacity: 428Wh (10.8V, 39.6Ah)
Lifecycles: 500 cycles to 80% (discharge rate: 1C, full charge/discharge, Temp 25C)
Shelf-life: Keep plugged in, or charge every 3-6 months
Management system: PWM charge controller, low battery protection
Ports
USB port (output): 5V, up to 2.4A (12W max), regulated
6mm port (output, 6mm): 12V, up to 10A (120W max)
12V car port (output): 12V, up to 10A (120W max)
AC inverter (output, pure sine wave): 120VAC 60Hz, 2.5A (300W continuous, 1200W surge max)
Charging port (input, 8mm): 14-22V, up to 10A (120W max)
Boulder 50 Solar Panel
General
Chainable: up to 150 Watts
Weight: 12.4 lbs (5.6 kg)
Dimensions: 21.75 x 26.75 x 1.75 in (55.2 x 70 x 4.4 cm)
Warranty: 12 months
Charge Times
Sherpa 50 Power Pack 4-6 Hours
Sherpa 100 Power Pack 4-8 Hours
Yeti 150 Power Station 6-12 Hours
Yeti 400 Power Stations 16-32 Hours
Yeti 1000 Lithium Power Stations 40-80 Hours
Ships from: Salt Lake City, UT, USA
Ships with: FedEx, or UPS
Ships out in: 5 business days